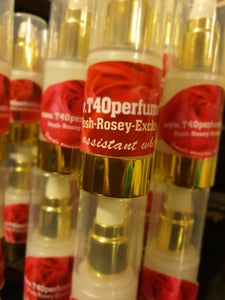 Posh Rosey exclusive 🌹
The Posh Rosey is an exclusive Egyptian female assistant when needed to fragrance the gentile area. Add with a clean finger and rub gently to the outer part  for that long lasting effortless sexy aromatic fragrance between the leg's. A fragrance of Rose lingers all day, that's the confidence every girl needs.
Note: DO NOT INSERT INTO PRIVATE AREA. 
Generally Musk is a class of aromatic substances commonly used as base notes in perfumes.
Many perfumes have a base tone of Musk. Musk is moisturise.
PERFUME IS HAPPINESS.
Rich perfume at the fraction of the price.
EVERY DROP MATTERS WITH T40 PERFUMES LONDON
---